Filtration
Filtration is the first stage for most of our waste water and trade effluent treatment plant designs.
The process is simple but effective and can offer great benefits.
Removal of gross debris to protect downstream equipment
Reduction in solids content to reduce the effects of undesirable bacteriological activity within the balancing tank
Reduction in solids content to reduce the cost of down stream equipment that is sized according to solids loading
In summary, filtration is a high performance, low cost starting point for self treatment of waste water. It may also be improved with chemically assisted filtration – this involves the flocculation of smaller particles to make larger particles for more effective separation.
With regards to filtration, there are several options:
J-screen
Allows filtration to 250 microns
Physically strong – stainless steel wedge wire mesh, durable, long lasting
Small footprint – 2m by 2m
No moving parts
Discharge under gravity
Low cost
Minimal maintenance
Guaranteed to filter at 250 microns, cannot fail to work when operating correctly
Requires periodic attention to remove built up debris/solids
Has no effect on particles <50 microns
Rotary drum screen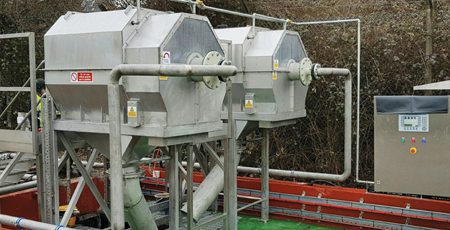 Allows filtration to 250 microns
Physically strong – stainless steel wire mesh, durable, long lasting
Small footprint – 2m by 2m
Only one moving part – the drum screen
Discharge under gravity
Low cost
Minimal maintenance
Guaranteed to filter at 250 microns, cannot fail to work when operating correctly
Requires mains water flush, preferably warm to hot, once per hour
Has no effect on particles <50 microns
Salsnes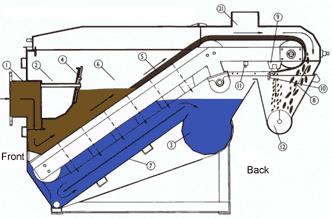 Kevlar weave conveyor type
Allows filtration to 200 microns or less, cloths can be manufactured at 50 microns
Small footprint – 2m by 2m
Only two moving parts – the cloth conveyor and screw
Discharge under gravity
Minimal maintenance
Guaranteed to filter at up to 50 microns, cannot fail to work when operating correctly
Requires mains water flush, preferably warm to hot, once per hour
Has no effect on particles <50 microns