Nestle Purina
Ogden Water are responsible for the water treatment services at Nestle Purina - one of the world's leading pet food manufacturers.
A full water treatment system was installed earlier in the year which includes a Dissolved Air Flotation (DAF) unit.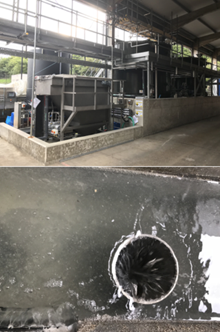 Raw effluent typically contains high levels of solids, fats, oils and greases. Total suspended solids reduced from 1412mg/L in the raw effluent to just 8mg/L in the treated water to discharge. COD levels are down from 870mg/L in the raw effluent to just 74mg/L in the treated water.
This gives excellent cost reductions of £35-45,000 per year based on a 100m3/day discharge rate.
The Fats, Oils and Greases results are also down from over 500mg/L to less than 20mg/L. Now that the DAF is operational, there are no problems with the water company.
This quality of discharge would be ranked in the top 5% of DAFs in the UK – it is simply outstanding.